Bedrock Furniture is a family run business that's been based in Bridgwater since 2001 specialising in quality beds and furniture at affordable prices.
The fabulous range on display shows our ability to supply quality traditional items and bespoke made to measure beds and bedroom furniture all with free local delivery.
---
Products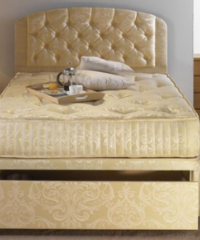 3 signs it's time to get a new mattress:
While it's easy to see a mattress as merely something we sleep on, which can last ten or twenty years, the reality is that our quality of sleep directly affects our quality of life. Waking up refreshed, free of back or neck pain, and having a great day relies nearly completely on your quality of sleep. Is your sleep a quality sleep? If any of the following are true, then probably not.
Your Mattress Has No Support:

Some mattresses simply have no support for one's back, shoulders and neck. And, while many mattress do, these too will eventually lose the support they once had. If you find yourself waking up with neck or back pain despite the use of a good pillow, it may be time to get a new mattress.

If your mattress hasn't lost support to the point of causing you pain as of yet, another good warning sign is simple wear and tear. Lumps, dips or holes in a mattress are a sure sign that you're not getting the right support, or soon won't be. A worn out mattress isn't just an eyesore as some might think, it's a hazard.
Allergy Problems:

Do you find yourself sneezing more in bed than anywhere else? With the exception of some of the latest memory foam and anti-allergenic mattresses, your mattress accumulates dust and allergens over time, causing fitful nights of coughing and sneezing. If this sounds like you, it may be time to get a new mattress.
Your Current Mattress Is Seven Years Old:

Dead skin, oil, moisture and dustmites will, overtime, absorb into your mattress to the point where the mattress' weight increases significantly. Colonies of dustmites leaving dropping within a mattress will eventually double a mattress' weight! Double! If your mattress has been around for seven or more years, in use or otherwise, it's probably a good idea to get it replaced.

If you're in the Somerset area and any of the above apply to you, it might be time to drop by Bedrock Furniture. A local, family-owned business, we have been serving the Somerset area 2001, leaving behind a long trail of happy customers. Don't let your sleep and life quality dwindle, give us a call or drop in the store today!
Reviews and Ratings
Excellent advice to help me choose the right mattress and save me money. The gentleman was very helpful and informative not just trying to get the sale but making sure I made the right choice for me. The mattress was delivered quickly and on time.
Very friendly service and didn't just try to get the sale they listened to what I said and made sure I made the right choice. The even delivered the suite for free and took away my old one aswell. I would recommend this company to anyone.
Thank you very much for your help and the discount on Joseph's bed, we really appreciate it and what a great help having it delivered. Thanks again.