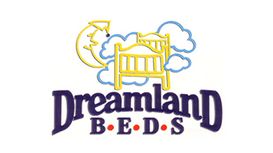 We are the leading mattress and bed retailer on the Internet with over 25 years experience in the mattress and bed industry Dreamland Beds bring to you the best selection of mattresses and beds at the right prices.
We have hand picked the best beds, mattresses and accessories at prices to suit all our customers. Dreamland Beds offer one of the widest selection of bed and mattress products on the Internet, choose from standard open coil beds and mattresses, Individual Pocket Sprung, Memory Foam, Latex or a combination to ensure you receive the most comfortable and support sleep possible.
To keep our prices competitive we import many of our own products as well as working with manufacturer partners including Restus, Kaymed, Kozee Sleep, Julian Bowen amongst many others.
---
Reviews and Ratings
I now know why this company have been around for so many years, they are very nice, very helpful, I was disappointed with another bed place that was just up the road from this one and now wish I had gone to Dreamland Beds in the first place, not only were they a lot cheaper, but they had much more to choose from and their prices are much better, I will be using them again.
Honest, Reliable, Efficient & Friendly is exactly what this company is. I was very concerned about how much everything was going to cost me, but they asked me if I had a budget - which I did and even though what I wanted cost more they lowered the price so I got everything I needed for the price I could afford. There are not many companies around nowadays that would do that so I would like to thank them and now I understand why they have been around for so many years. Thank you Dreamland Beds - I will recommend you highly.
Well what can I say, this company bent over backwards to help me, they were very efficient and helpful, all the staff were friendly and they delivered my Bed, Mattress & Furniture in no time at all, It was such good value for money that I am going back next week to kit out my guest bedroom! I would recommend them to everyone, in fact I already have!