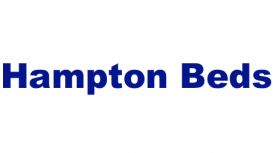 With over 29 years experience in selling beds and mattressses I have selected products that are of good quality and at sensible prices. Hampton Beds have beds from "The Hampton bed Company" on our shop floor.
We also have beds and mattresses by Thuka, Stompa, Sleepeezee, Joseph International, Hush a bye, Dreamworks Beds, Limelight, Parisot, Breasley, Restus, Gainsborough, Rest Assured, Kayflex, Komfi, Simmons, Sweetdreams.
Everybody needs a good night's sleep, especially with the pressures of modern day living. On average, we spend about one third of our lives asleep, so it is important that the bed and mattress we choose is right for us. We offer a large selection of beds and mattresses, from the most popular brands available in the UK, such as Sleepeezee, Relyon, Sweet Dreams, Stompa, Thuka, Limelight and many more.
---
Products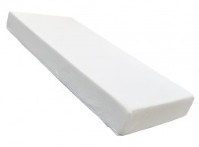 Babies spend between 10-14 hours a day sleeping so a good quality mattress is essential.
The cot bed range of mattresses offers the latest innovative design giving premium comfort and performance. Our cot bed mattresses are designed in association with the National Childbirth Trust, the UK's leading charity for parents.
As well as being a healthy place for your child to sleep, our cot bed mattresses also conform to all UK Safety and Fire regulations and meet Phosphorus free guidelines and are tested to BS1877. This provides your child with an all round safer sleeping environment.
Our cot bed mattresses have a zipped Outlast temperature controlled removable cover which regulates body temperature. Outlast fabric helps maintain a perfect body temperature throughout the night. It was first used in the NASA space programme to cope with the huge temperature swings that astronauts' space suits have to withstand. Outlast fabric promotes healthy, cool and restful sleep and can be removed for easy cleaning.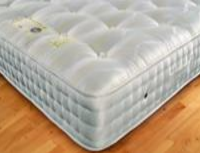 Single mattresses are available in the small 2ft6 x 6ft3 (75cm x 190cm) size and standard 3ft x 6ft3 (90cm x 190cm) size.
The standard double mattress size is 4ft6 x 6ft3 (135cm x 190cm) The three quarter double is also available in the 4ft x 6ft3 (120 x 190cm ) size.
The Kingsize mattress is longer and wider that a double mattress the overall size of a kingsize mattress is 5ft x 6ft6 (150cm x 200cm) .
The Superking mattress is the UK's largest standard mattress size. the overall size is 6ft x 6ft6 (180cm x 200cm).
Reviews and Ratings
We do not have any reviews about Hampton Beds available right now.