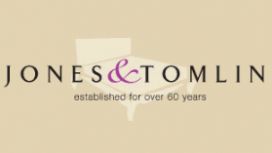 Jones & Tomlin are a family run and completely independent bed and bedding specialist based in West Sussex; offering free delivery nationally and free disposal of local customers old beds throughout Sussex, Surrey, Hampshire and the surrounding areas. We are a small team that strive to maintain the highest standard of customer service, and are proud to offer completely unbiased and professional advise to help you find your ideal bed or mattress.
We have three showrooms displaying over 200 beds in each; Horsham Bedding Centre has four floors of beds with a private customer car park at the rear of the building, Worthing Bedding Centre has three floors of beds and has been established for over 65 years, and our brand new store Chichester Bedding Centre in Bosham. We now supply a wide choice of beds and mattresses with free delivery to most parts of the UK with our new comprehensive webstore.
Jones & Tomlin soon built a reputation in Worthing for supplying extremely good quality furniture at affordable prices and a service which was second to none. Customers still visit today who remember buying their first dining or bedroom suites in the late 40's or 50's, some even have pieces in use today!
Both Jones & Tomlin and Mr. Tomlin himself are firmly seated into the recent history of Worthing; Mr. Tomlin was to become a councillor and subsequently Mayor of the town. Today the company is run by the son and grand son of Mr Tomlin, although one change to the original format has been that for the past 25 years beds have been the mainstay of the business.
Another change to the original format is that Jones & Tomlin now trades with a bed store in Worthing, a store in Bosham near Chichester and a third bed centre 25 miles inland at Horsham. These three stores between them offer a choice of well over 500 beds and mattresses on display!
The company is still completely independent and prides itself in seeking the best products at the best prices for its many customers. Every member of staff is extremely knowledgeable and can therefore offer the correct advice to help you choose the right bed to suite your needs. We have vast experience in delivering beds and mattresses free to our customers in Worthing, Brighton & Hove, Chichester, Guildford, Crawley and London, and have recently extended our service to offer our free delivery service nationwide with the launch of our new webstore.
---
Reviews and Ratings
Steve Holehouse, Llantwit Major, Vale of Glamorgan
Recently took delivery of a quilt cover set... advice for customers, the "Voyage Maison" looks nothing like the advertised photo. The actual colours are washed out and very pale, we have no come back because it was taken out of the packet, which is, of course, the only way you will actually see it properly...now this is partly my fault because it was taken out of the packet, but be aware it cannot be returned so do as I will from now on and buy from a shop.