Julian and Mel were freelance carpenters taking orders at Covent Garden's craft market at a time when affordable furniture was still being manufactured in London, and when you could still get things made for a reasonable price. Within a short time they acquired and restored a derelict listed building in Grays Inn Road and this became their showroom. It was too large at the time because they only made one bed - the still popular and practical 'Custom'.
To help pay the rent, Julian opened a Veggie café at the rear of the shop. It quickly became very popular and customers would frequently have to sit on the beds to eat at lunchtimes. The café continued to flourish for twelve years before reverting back to a bed shop for a further six. Camden Council, the landlords, have since allowed the building to fall into disrepair again.
---
Products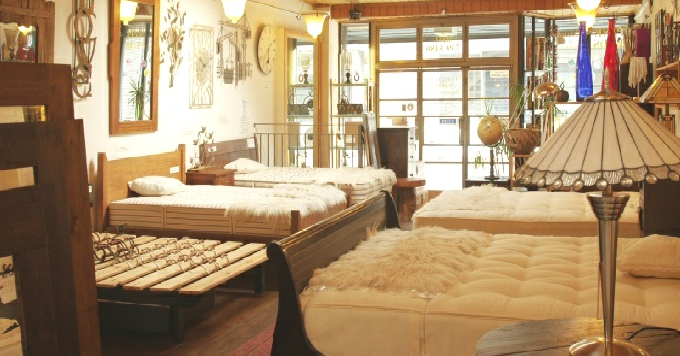 As mattress makers with over 30 years experience, we have the expertise to guide you through the process of choosing a mattress. We display a comprehensive range in our factory showroom, all of which have a ten year guarantee. You will discover that it is not necessary to pay the high prices demanded by prestige manufacturers and fancy retailers to ensure quality and lasting comfort. We demystify a straightforward subject and explain the differences between the various types, giving customers a clear idea of what they pay for, and why.
Natural fillings: Wool and cotton are quality components. Good fillings are equally as important as good springs. Natural fillings are costly and unsuitable for volume production. They are more comfortable and long lasting than man made fibres, and absorb and disperse heat more effectively.
Quality springs: We choose our springs carefully. The high count 'Pocket' springs are from a top Yorkshire maker, and the 'Open Coil' springs are from a leading German manufacturer.
100% Cotton covers: Traditional cotton featherproof 'tickings' (mattress covers) allow the mattress to 'breathe'. Pure Egyptian or Lancashire tickings yield comfort and durability that more commonly available synthetic covers cannot provide.
In house quality control: All are expertly handmade in our Shoreditch Workshops.
Direct from the maker: We offer exceptional value because there is no middle man. We have a straightforward pricing policy and are able to offer a higher specification at a lower cost. Our prices are genuine, and our mattresses are still chosen when others reduce theirs.
Availability and choice: Eight standard UK sizes and four different types are available. We also make bespoke sizes which are suitable for all types of bed - not just our own.
Gimmick free: Other manufacturers use gimmicks which may add to, or even save manufacturing costs, but do little to improve the quality.
These include:
Double layers of springs. 'Single Sided No Turn' and 'Summer and Winter Sided' mattresses. Fancy stitching. Sprinklings of cashmere, silk and mohair. Heat retaining puffy foams and fibres. Clammy, moisture retaining textiles. The list is ever changing. Our aims are simple - No frills, just time proven quality and value.
Reviews and Ratings
Richard Rowberry, Hartfield, East Sussex
We would not buy anything else from Litvinoff & Fawcett (unless there is a response to this poor review). We bought a bed base and a mattress from them 30 years ago which lasted us well: so we purchased a replacement mattress eight years ago from them again. It wasn't at all at the same quality level and has deteriorated to the point of needing to be replaced.

Firstly we tried to use their email from the website contact information. It didn't work. We wanted to point out that, on their website, the company say they operate a 10-year guarantee on materials and workmanship and this might mean they would listen more carefully to our dissatisfaction.

So we phoned to ask for an alternative email. Speaking to the representative I decided to mention, rather than email, our sadness at the difference between our later and earlier purchases. He then spent some time saying that our experience could not be a function of poor quality; we had exceeded the nationally recommended 7-year mattress usage; their products were far superior to others being sold and our mattress must have been damaged in use or when moved (not true).

The phone call reinforced our decision not to buy from Litvinoff & Fawcett again. The representative made no reference to their guarantee. There was no goodwill offer of, say £50 off a new mattress bought from them – with a discussion of what might be the best replacement or even the offer of simply inspecting the mattress. Any of these might have been a good customer service suggestion. Caveat Emptor – It seems Litvinoff & Fawcett presently don't care that much.