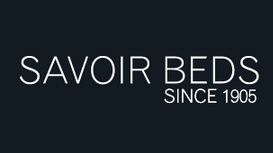 Savoir is widely regarded as the world's most luxurious sleeping system. First created for The Savoy Hotel in London in 1905, our tailormade beds have become almost as legendary as the stars who have slept in them.
A Savoir bed can be made to any size or shape, stand alone or sport a bespoke headboard, be beautifully upholstered or made to fit into an existing frame. We build in all your personal requirements so you can enjoy the perfect combination of support, comfort and design. The Savoir experience starts at one of our showrooms, where a member of staff can literally take your measure, as well as advising on fabrics and styling for your dream bed.
Savoir use the finest natural materials, from long, curled Latin American horse tail to Mongolian cashmere and British lamb's wool, together with the best craftsmanship to create sublime and long lasting comfort for its clients. Each bed is made specifically for a customer, at either Savoir's main bedworks in London or its second site in Wales. One craftsman makes each mattress, and like an artist, signs the label on each completed job.
With Savoir showrooms around the world, from London to New York, Paris to Shanghai, the brand is global. Each showroom has skilled consultants who will help not only provide the perfect support, but also design a bed to fit your own style. Bespoke headboards and an almost unlimited array of upholsteroptions ensure that each bed is unique.
Savoir have also collaborated with a range of hand-picked designers each year to create an inspired and innovative range of Savoir beds. The existing list of designers includes Sacha Walckhoff, Phillip Gorrivan, LV Yongzhong, Nicky Haslam and Virginia White, to name a few.
This line of designer collaborations are an addition to Savoir's existing range of headboards as Savoir's Managing Director, Alistair Hughes explains, "The designer collaborations are a great opportunity for us to showcase our versatility and ability to customise our designs."
After a good night's sleep on a Savoir, its clients are ready for the day ahead, mentally alert and physically rested. A Savoir bed is an investment that pays off every morning of your life.
---
Reviews and Ratings
We do not have any reviews about Savoir Beds available right now.