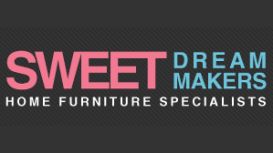 Sweet Dream Makers, we are family friendly, online Bed and Furniture specialists, with many years experience in the bed and mattress industry. We have 1000's of Beds and Mattresses in stock and aim to offer you the perfect shopping experience every time with our huge range of quality beds and UK made mattresses; all at fantastic prices! We also have our own in house delivery service with assembly and recycle options available on all our Divan Beds.
We offer a wide range of top brands and latest technology mattresses from names such as Healthbeds, Sealy, Sleepeezee, Shire beds and Sleepshaper for your divan beds through to Julian Bowen, Limelight, Birlea Furniture and Annagmore for your bedroom ranges of Leather beds, Fabric Beds, Metal and Wooden Beds and Children's Beds; that feature a huge range of Bunk Beds, Cabin Beds and High Sleepers, including an exclusive range with built in desks and storage, that you will not find anywhere else.
If you're looking for that little bit of luxury, why not try out one of our premium leather beds? Or even go one step further and plump for one of our latest TV beds; great for kicking back and relaxing on a Sunday with your built in telly on and breakfast in bed, including the latest models with built in sound bars, from top bed manufacturers like Kaydian.
Struggling for storage space? Take a look through our lift up Ottoman Beds that now include divan bases. A great amount of storage hidden under the bed night after night. All our beds are available in a wide range of colours and fabrics.
With hundreds on mattresses from some of the UK's best manufacturers to choose from including all the latest sleeping technology including Pocket Springs, Memory Foam, Latex, Cool Gel and Mammoth Foam; you will find it easy getting the right mattress for you. Many of our mattresses are also available Next Day or with a two man room of choice delivery.
---
Products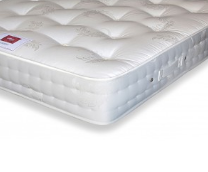 View our large choice of mattresses. At SweetDreamMakers we like to spend our time with our customers to help them select the right choice for them, Weather in store or online we will give our expert advice in choosing the perfect mattress for you.
There is so many different mattress types to choose from with the different fillings and springs that it can become a bit of a mine field choosing the best one for you.so we try to narrow it down in simple terms.
The 2 main spring options are the pocket springs that are individually housed in their own fabric for independent sleeping movement, This is ideal if you have a different weighted partner or a fidgety sleeper.
For those of you who prefer a firmer support and the traditional style orthopaedic open coil spring mattress then we do many orthopaedic mattresses as well as no roll twin springs for a no roll together no roll; off action. Once the spring system is decided it's in to the fillings.
Memory foam and latex provide a supportive foam action or choose natural wool and silk for fillings for a more traditional mattress feel. Choose the firmness rating that suits you and if you would be best suited to a non-turn mattress then look out for these mattresses. At Sweet Dream Makers we only supply the best manufacturers that includes, Mammoth beds, Slumberdream, Sealy Beds, Highgate Beds,Highgate beds and Sweet Dreams.
We offer a wide range of both full memory foam mattresses as well as combination spring and foam mattresses, Memory foam was invented for the astronauts to support them on their take off. As the foam is designed to mould to the complete shape of your body supporting your natural curves any way you choose to sleep.
Reviews and Ratings
We do not have any reviews about Sweet Dream Makers available right now.