We've been making and selling great quality, great value wooden beds, and solid wooded bedroom furniture, for almost 30 years now. There's hardly anything we don't know about the kind of beds people living in and around London like and, just as importantly, need, to make the most of their homes.
Late in 1979 our driving force, Martin Walsh, who was at that time a schoolteacher, decided to make two beds for his own children. With a little research he decided that a timber-slatted bed would be the best option.
Armed with nothing more than a handsaw, an electric drill and an old table as a workbench, he set about making the beds in his back room. Soon, friends and relations began asking if Martin would make beds for them. Although Martin had no plans at all to change career at that time, he agreed to make a couple more beds, and it quickly became apparent that there was a big demand for such beds.
---
Products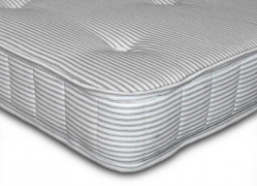 We sell four kinds of mattresses:
Orthopaedic (open coil).
Pocket Sprung.
Memory Foam.
Memory Foam/Pocket Sprung hybrid.
To help you choose a mattress with the level of firmness that you like, we rate each one as:
Medium Firm (a little less firm than Firm).
Firm (a nice firmness for people who like a 'Firm' bed).
Extra Firm (a little firmer than Firm).
No matter which model you decide on, every mattress we sell is of an excellent quality and will give you years of sound sleep. All of our pocket sprung and orthopaedic mattresses are made for us by our own, traditional mattress maker in East London.
Almost all of our Memory Foam and Memory Foam/Pocket hybrids are made by leading name brands, and we've chosen these models for their excellent quality and value.
Reviews and Ratings
I now have my lovely Gothic bed and it's fabulous - Thank you very much! After hunting all-over the place trying to find a bed that was different from all the regular high street suppliers, I found your website & fell in love with it instantly. It's beautifully made, looks great in my bedroom & I expect it will last me many, many years. I will thoroughly recommend you to all my friends.
I would like to thank all at Taurus for the repair to my drawer for my elderly 4+2 chest. I was delighted that you were able to fix and return it so soon, and I have posted a link on Facebook to let everyone know that I highly recommend your business. I will see you soon, when I am shopping for a new mattress!
I would just like to congratulate you on a fantastic service. You replaced my mattress rather recently and did so with impecable service. I own my own business and know the value of service. Your service to the community of London is to be admired. Thank you and may your business continue to prosper.