With a range of carefully designed, quality cot mattresses we are committed to making sure you get the right mattress to give your little one the best nights sleep possible, whatever your budget.
We're proud to support British Manufacturing, all our mattress products are made right here in the UK and because of this we're able to offer fantastic value for money with savings of up to 60% on high street prices.
All our cot mattresses are manufactured in our state-of-the-art factory based in the UK. We're ISO9001 accredited and hold the 'Investors in People' standard. We offer a range of cot and cot bed mattresses designed with your baby in mind to give optimum support and comfort. We are one of the largest UK manufacturers of cot mattresses, and from our factory supply many of the most well known high street brands.
---
Products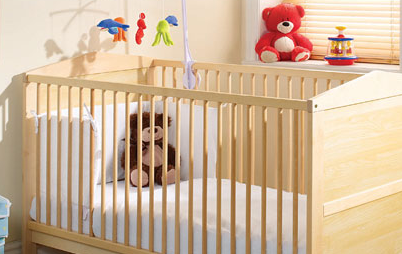 High Quality Cot Mattresses:
Supplied factory direct from the company that makes thousands of cot mattresses every month. The comfort kids brand of cot mattresses brings you high quality cot and cot bed mattresses at unbelievable prices. We do this by cutting out the high street retail shops and their on costs. By keeping our margins low and by selling and distributing direct from the factory we can sell at such low prices and still keep our quality high.
Cot Mattresses Supplied Direct From The Mattress Factory:
We manufacture all our cot mattresses in bulk quantities and aim our product range at the biggest running cot and cot bed sizes currently sold in the UK. These being 140 x 70 cm, 120 x 60 cm and 117 x 54 cm, Thus enabling our manufacturing to be efficient and so keeping our costs down.
Because we manufacture in large production runs we do not make bespoke sized mattresses or offer products differing from our standard range. At present we have 4 cot mattress options foam 7½ cm, sprung 10 cm, cool flow 10 cm and pocket sprung 10 cm.
As our sales grow we will add to the range and build on it and if needed also prune selected lines if they prove not to be good sellers. Our company runs from a 57000 sq ft factory in Oldham with its own sewing department, an automated foam cutting department and mattress assembly lines. Our company is also ISO9001 accredited and holds the Investors in People standard. So feel assured you are buying from a professional accredited British company with many years experience in cot mattress manufacture.
When buying a cot mattress feel secure you are getting a quality product from a reputable company, all the comfort kids range of mattresses are made in the UK from a specialist cot mattress manufacturer who supply's cot mattresses to many well known high street brands and who also holds the ISO9001 quality standard and the Investors in people standard.
Reviews and Ratings
We do not have any reviews about The Mattress Factory available right now.